Rapala updated the 4 piece specifications of the new Classic CountDown series this year, and it is the second more positioned portable travel rod after the previous TRAIL BLAZER portable series.
The overall appearance of Classic CountDown's portable series is a bit similar to the white paint of the SNOW series, but the color of the Classic CountDown rod is like milky white, but the application range of the Classic CountDown series belongs to the specifications of light pounds, this series has only one model 664L, with a straight handle and a gun handle, the length is 6 feet 6, the bait weight is also 1/8-3/8oz, the line is 3-8LB, The tonality is F (fast key) setting, equipped with FUJI A ring, overall, the rod length is not very long and more suitable for use in various mountains, rivers and rivers and other areas, and from the introduction film provided abroad, it can target a variety of fish species, small and medium-sized fish, and fish species similar to Southeast Asian water horses or red giro.

Classic CountDown is a four-section portable setting with a storage length of 54cm, and uses a hard rod bag like the previous TRAIL BLAZER series about 60cm long, but the inside is more soft rod bag than the TRAIL BLAZER, and the Classic CountDown is relatively thinner than the TRAIL BLAZER series in terms of pole body details, but how this style design reminds me of Major Craft's trout rod style?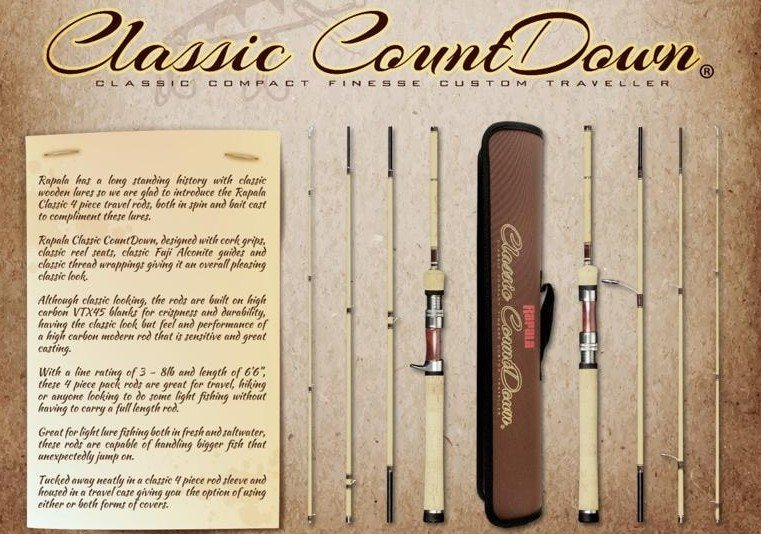 The reference price of the Classic County Down is around 21,700 yen.