2020 is less than a week away! Fashion trendsetters should pay attention to issues related to the annual fashion, the international color authority Pantone announced the 2020 popular color for classic blue, the official interpretation is that classic blue is like the sky at dusk, giving people a calm and calm eternal feeling, with such a calm and timeless and elegant color as the representative trend color of 2020, giving people a sense of trust to make people calm down, especially can soothe restless emotions.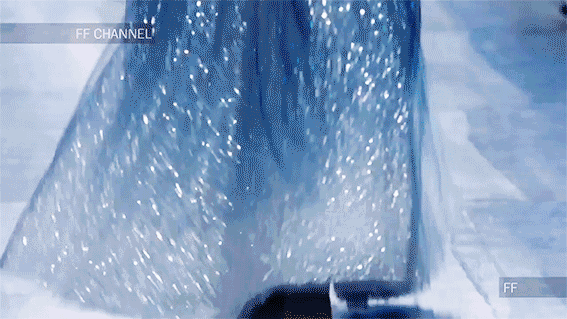 In fact, classic blue can be seen everywhere in our daily lives. Like classic suits, winter coats or trendy tannins, and with the popularity of popular colors, the classic blue that is simple and easy to match will renovate the color of your cabinet.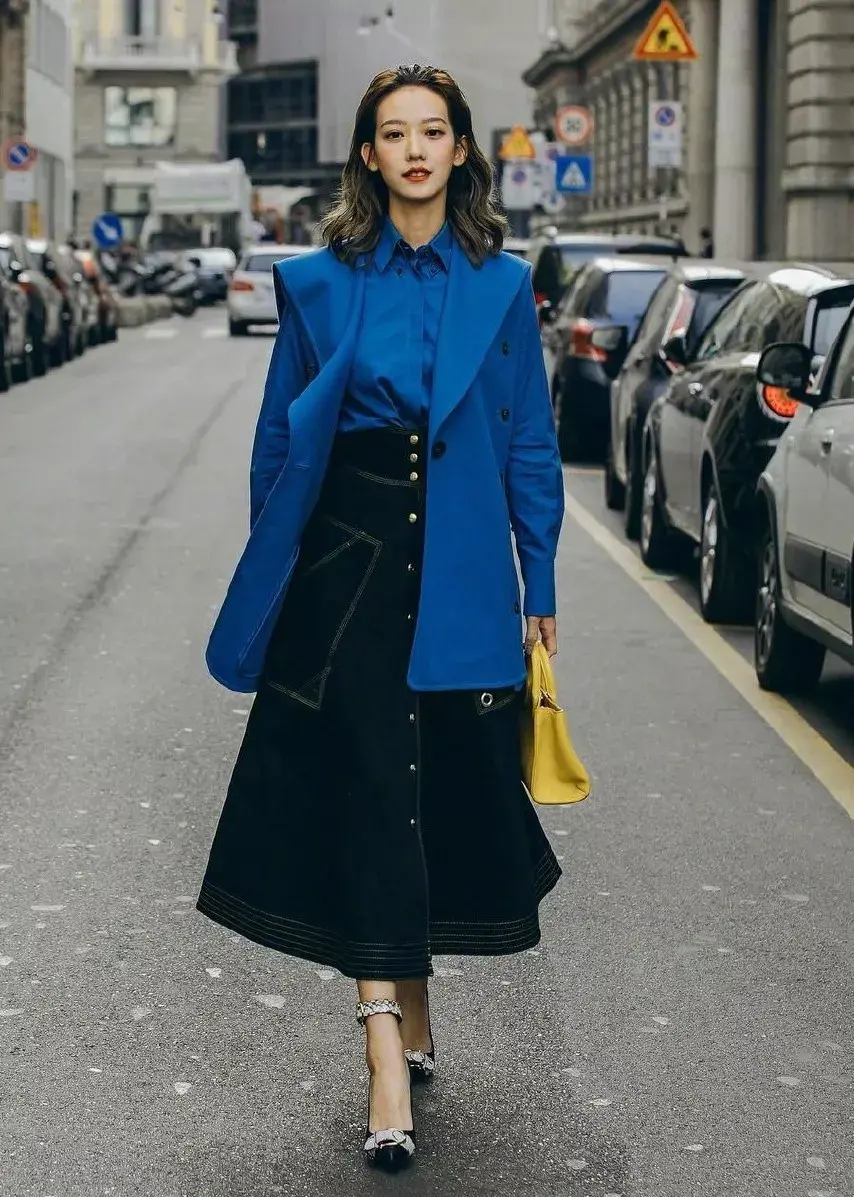 The major show haute couture has always loved the classic blue can not be underestimated, today Kaylin will come to share with you some particularly beautiful classic blue pieces to match~ let you take the lead in beauty!
1. Classic blue + white
The combination of classic blue and white is very classic, white and very temperamental, very blue sky and white clouds, bringing long-awaited hope. A loose white knitted sweater paired with blue wide-leg pants in bright contrasting colours is bright and atmospheric.
Classic blue wide-leg pants with a color-block design for a calm blue jump. With a white shirt, simple and elegant with a bold part, the red bag plays a great role in brightening the color.
Change the top to blue, the split casual style is very casual and comfortable, with a pair of white wide-leg pants and white small white shoes, elongated legs, elegant performance is irreplaceable.
2. Classic blue + black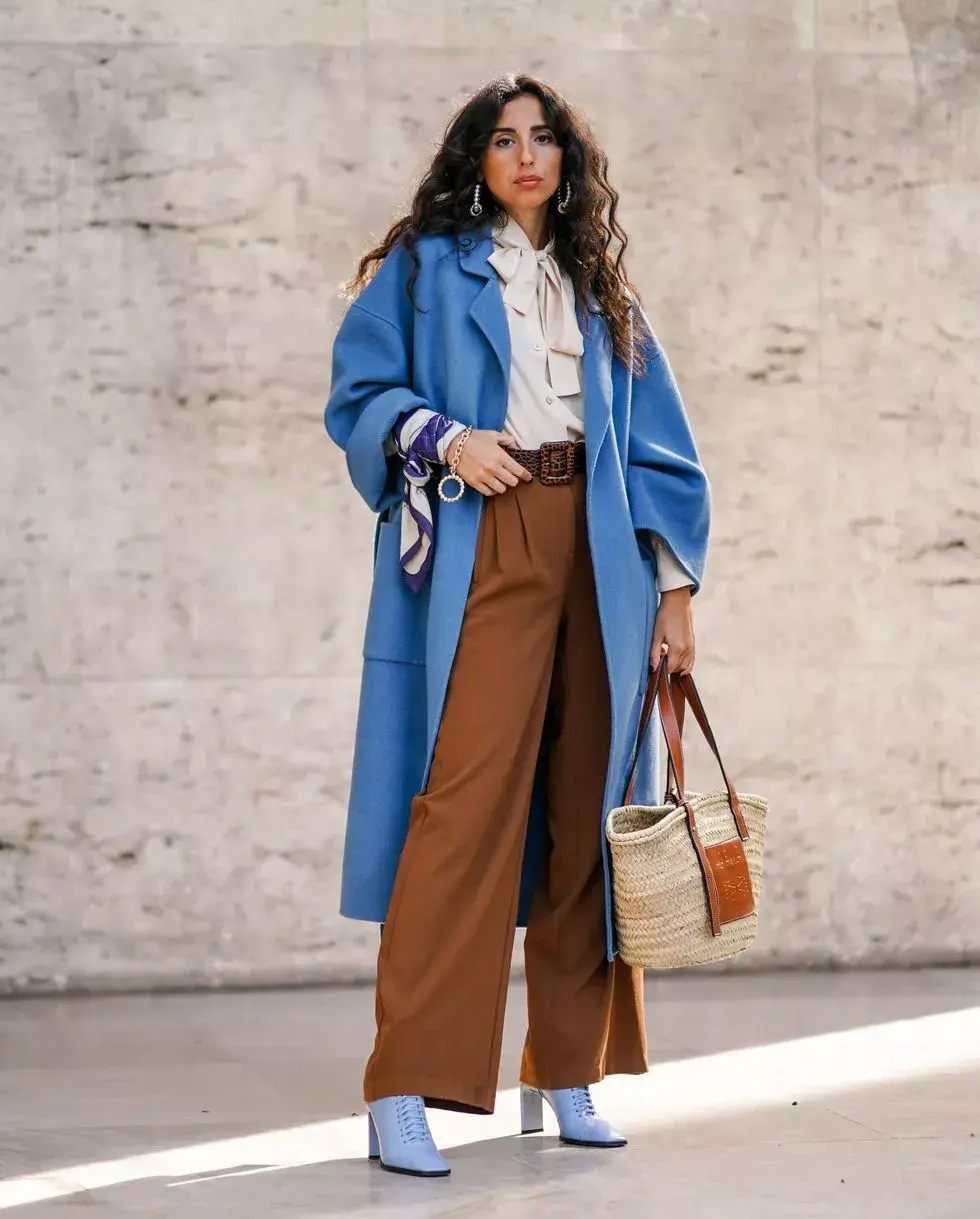 Classic blue with black, more calm in elegance. Pair a casual blue stripe shirt with black top-stitch pants for a more youthful fit, and the ultra-loose casual shirt fit is very friendly to the figure.
The blue silk shirt is exactly the same color as the blue short coat, and the texture is very high-class. With a black front button A denim skirt, you will remove the strict and regular part of the suit shirt and become casual, and this high-waist combination shows the tall figure.
3. Classic blue + earth tones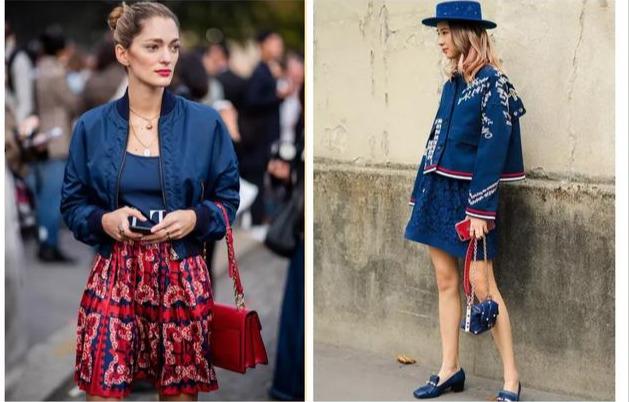 Use blue to match the earth tones of this year's fire. One is idyllic and elegant, and the other is rich in texture. The contrast of colors will take on a full oil painting-like texture. Trench coat and wide-leg pants, two bold and imposing characteristics, with a white bow collar streamer shirt. A more elegant part was added. Straw bags add a lot of idyllic feeling.
The blue skirt and the light khaki plaid casual suit have a much more elegant color contrast, and the pleated chiffon fabric is flowing and flexible, highlighting the feminine femininity. Change to a khaki casual trench coat with a blue silk shirt and brown-yellow mopping trousers, which is full of street style and is particularly handsome and unrestrained.
Pair a khaki casual suit with jeans and that's perfect. Elegant and young. Small girls can wear a 9-point design, and then wear a pair of high heels, and they can also be very fashionable.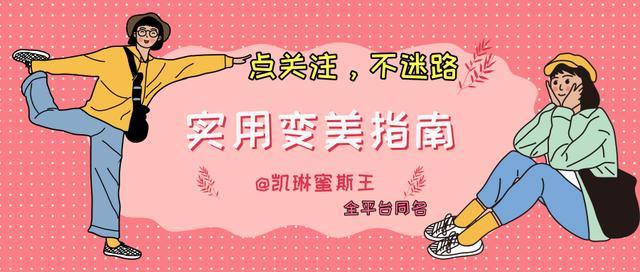 4. Classic blue + yellow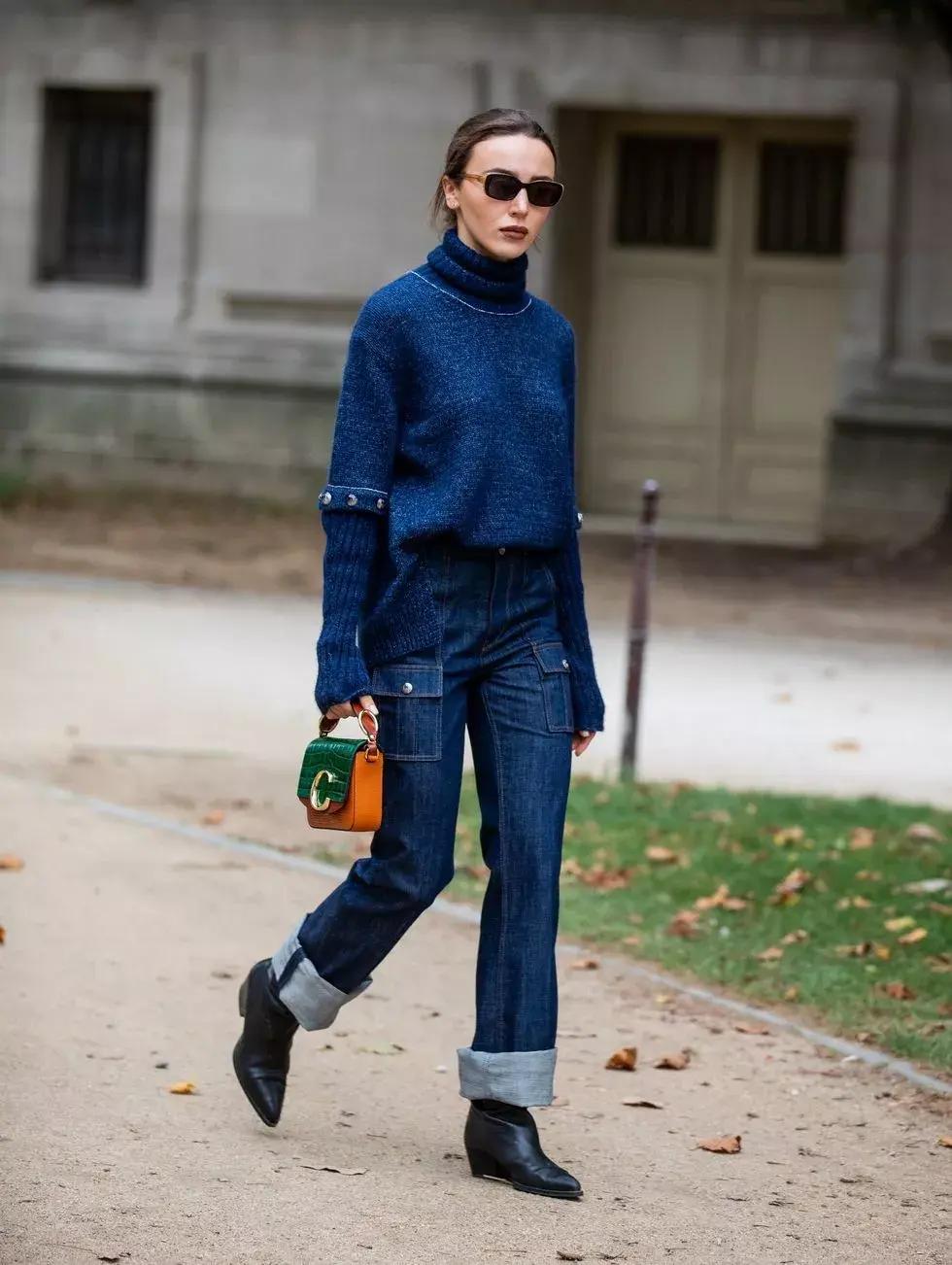 For small partners with strong color grasp, use blue to match yellow, two extremely bright contrasting colors, extremely eye-catching, feel that if the area is too large, it is perfect to get a little finish.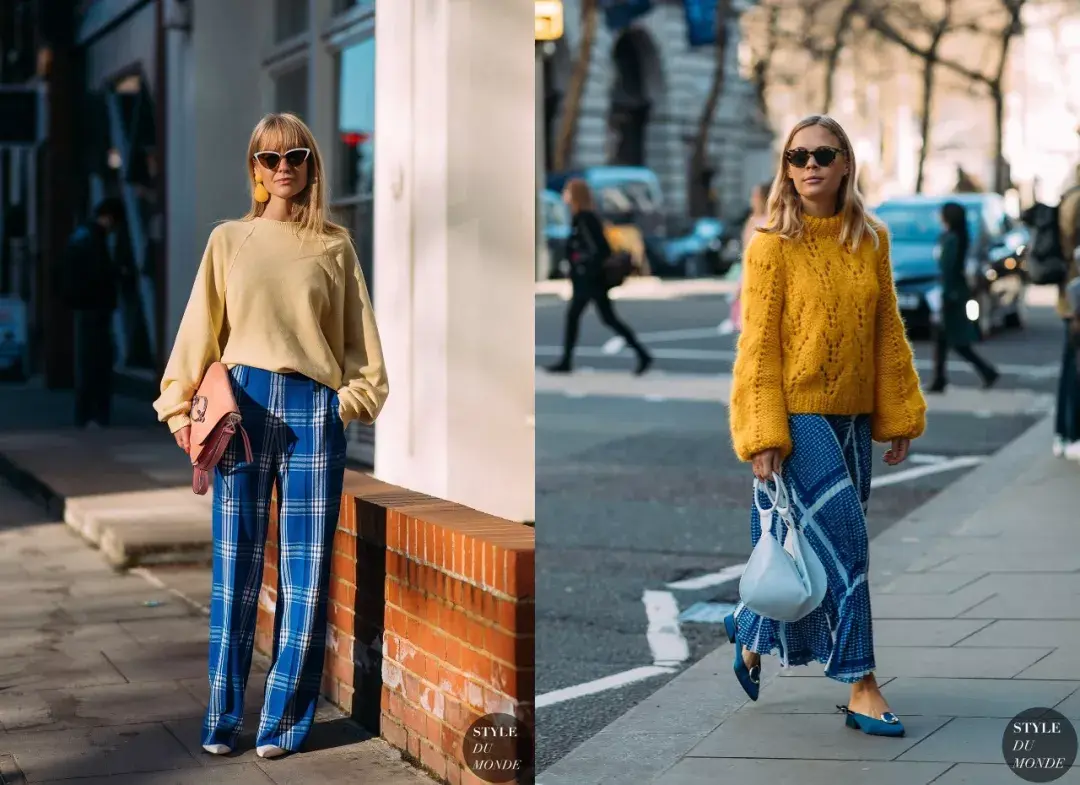 The yellow casual sweater is very warm and shows off the skin. Blue plaid pants can reflect a good figure and artistic style, and changing to a blue plaid large plaid skirt is more lazy vacation style.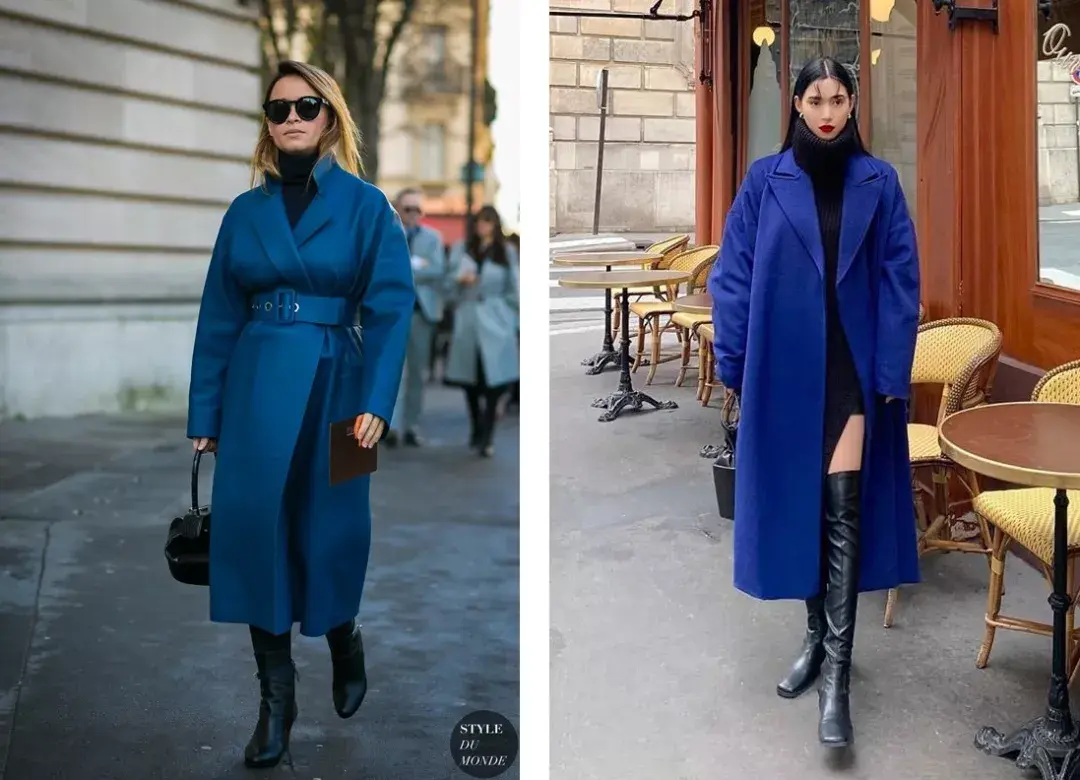 5. Classic blue + approximate color
In the wearing and matching color, nothing is easy to approximate the color, and increasing or decreasing a chromaticity in the contrast of color can reflect the sense of layering. An ultra-casual denim jacket that can also be styled with the help of wide-leg pants.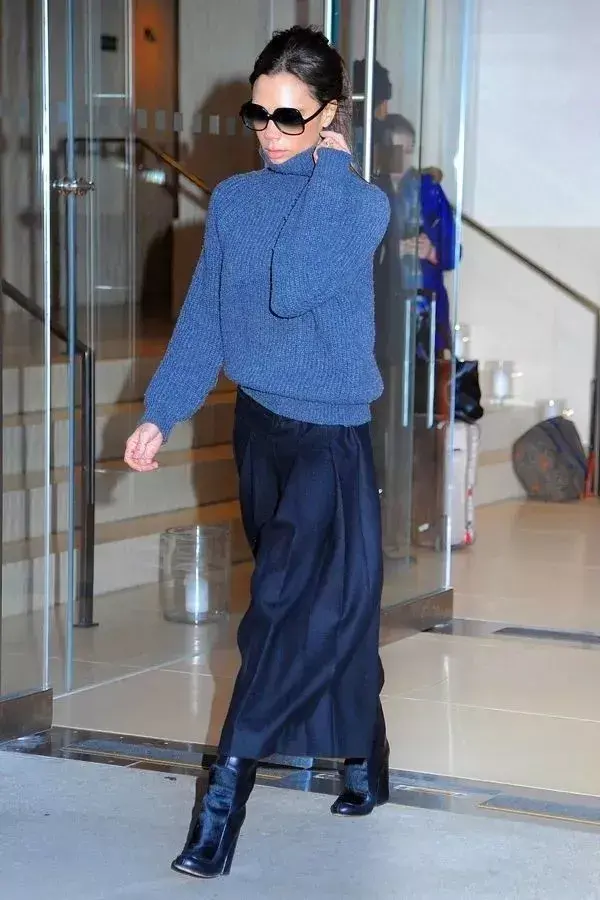 A rigid blue suit will be set off by ultra-casual jeans. It's very free. Pair neat blue trousers with a light blue ruffled shirt, and layering with a black sweater underneath will be much less rigid and relaxed. Exposing your waist line is a great way to show off your figure.
Little girls who like to wear skirts with a light blue suit and a blue pleated skirt can also reflect the essence of grace. The yellow-brown bag in hand is a calm and smooth blue, which adds a lot of liveliness and warmth.
6. Classic blue + red
The classic blue calm can feel a little deserted. Paired with a big red coat, hat and scarf, it will fill the body with a joyful New Year's feeling.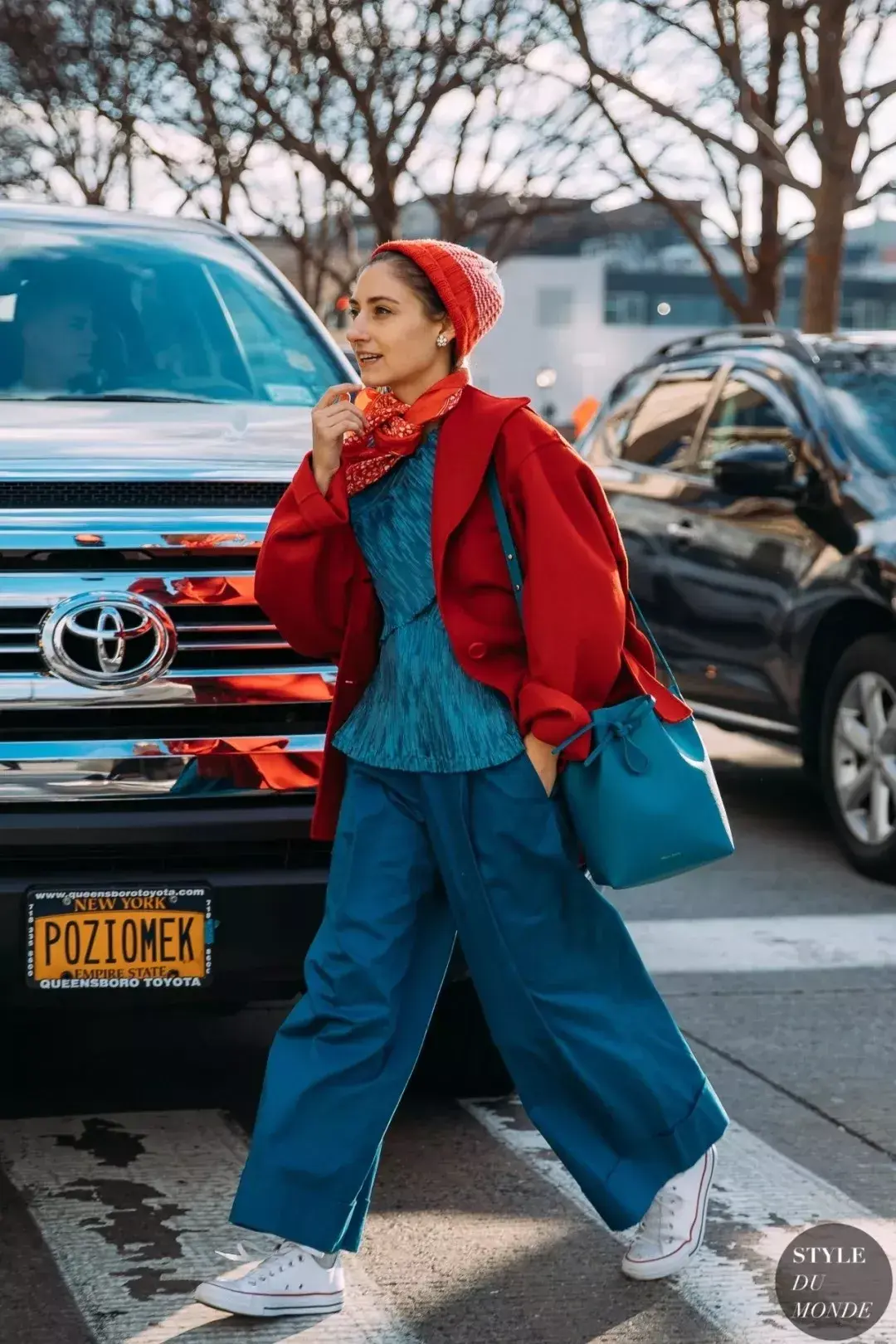 Or add a vintage print red skirt to highlight the color, the British style of the blue suit, with a small red mobile phone can also make the whole body color jump and enthusiasm.
7. The whole body is colorful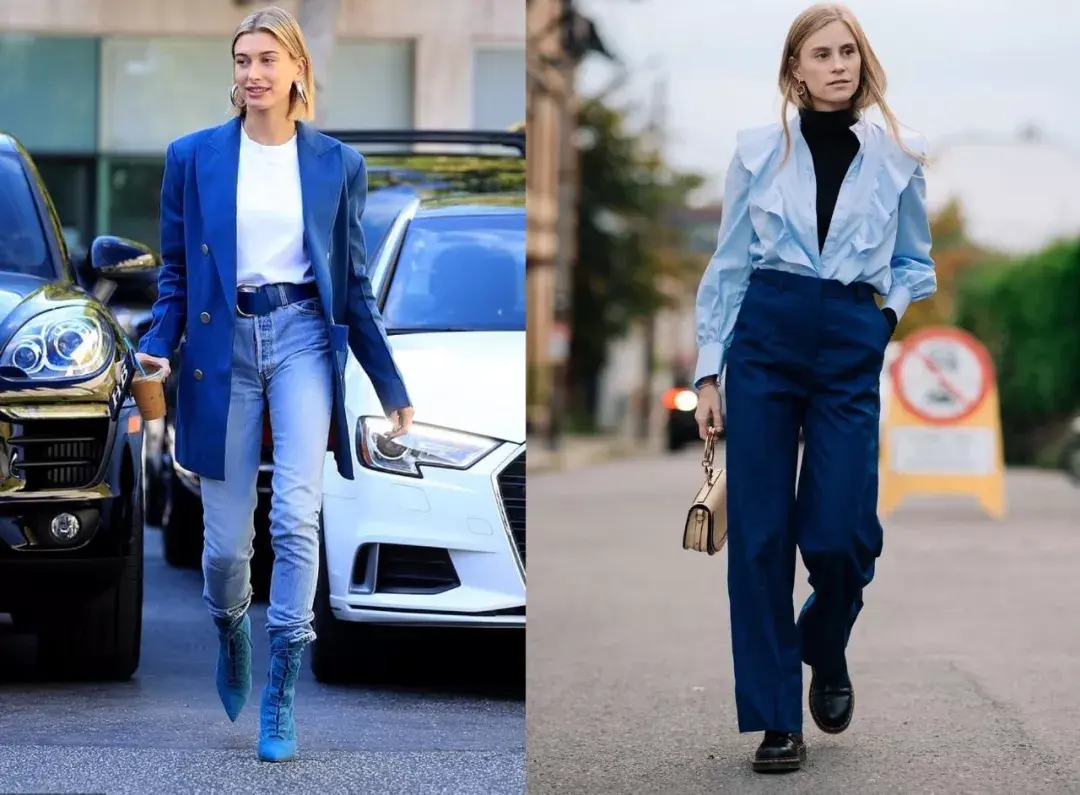 Shunshi is the lucky star of lazy star, classic blue slim cropped pants, color-block casual jacket, a pair of white pointed heels, there is a feeling of a walking elf on the street.
Cotton clothes with jeans, super casual and super fashionable. Tall girls have plain boots Martin boots, long legs and good figure can not be hidden. The casual pants are rolled up to reveal the waistline, and the small girl is also very dashing.
The classic blue ruffled long dress is more retro, especially suitable for skinny girls, which can reflect its flexible side. It's chic to use handbags and boots to accentuate the colors.
Sister-in-law chose a casual sweater with a silk skirt, and under the background of black leather boots and sunglasses, the domineering side could not be concealed in the elegance.
The blue coat is low-key and atmospheric, with a high-cold temperament of the president. Simply put on a black sweater and black boots, and it is super stylish.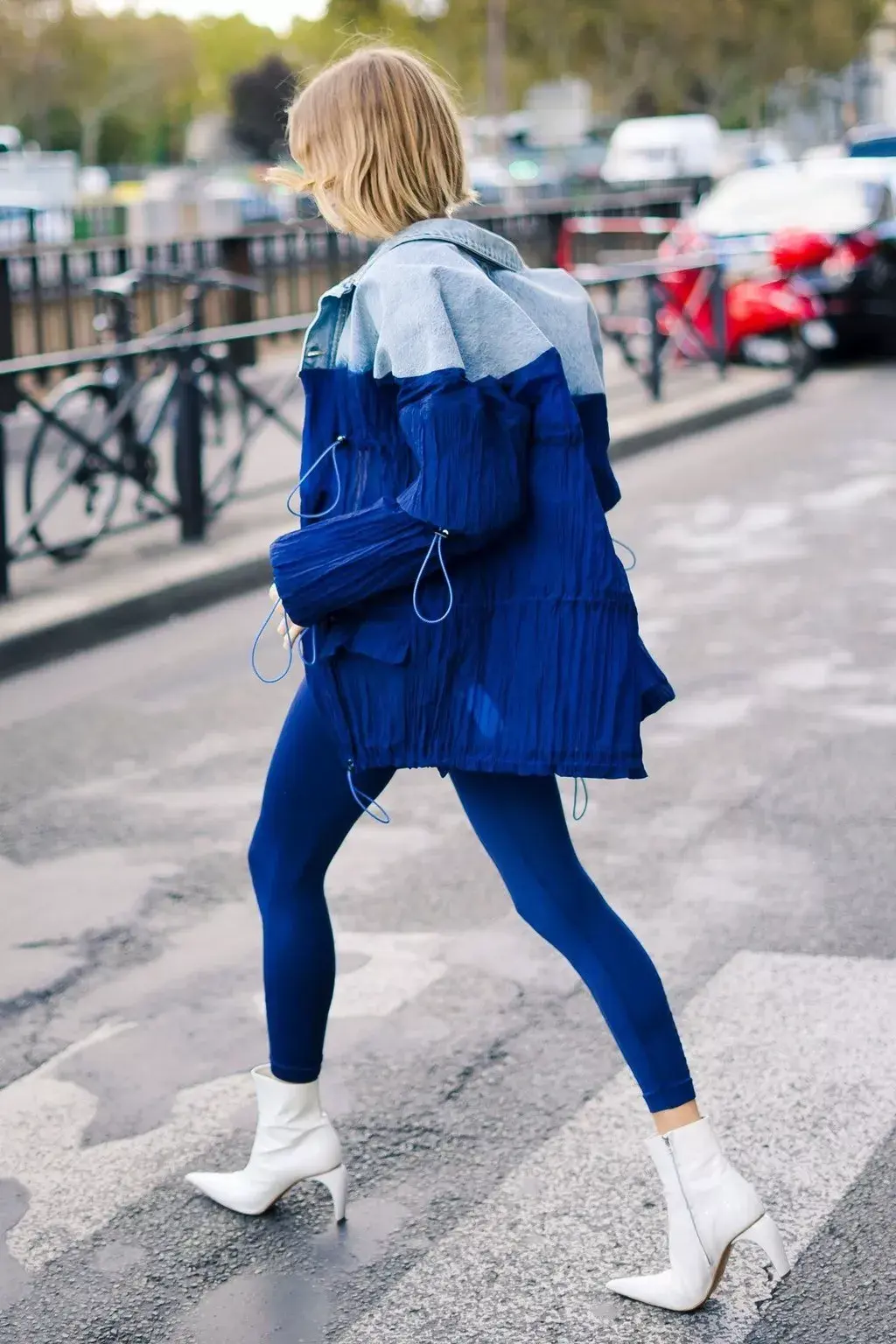 The sweater and blue denim have both a youthful and beautiful student style and a trendy street style.
The 2020 trendy color of the year is friendly to yellow skin, so go and shop for your fashion items!

This article was originally created by King Kaylimis and reproduction is strictly prohibited.
If you like my article, let me know if you "like, comment and forward"~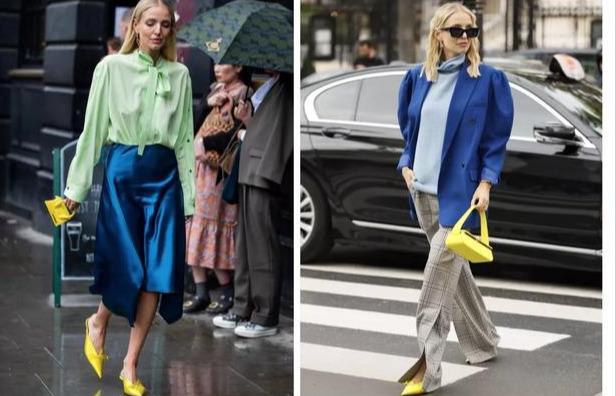 Daily update, the fashion lady who knows you best, the same name on the whole platform [Kaylin Miswang]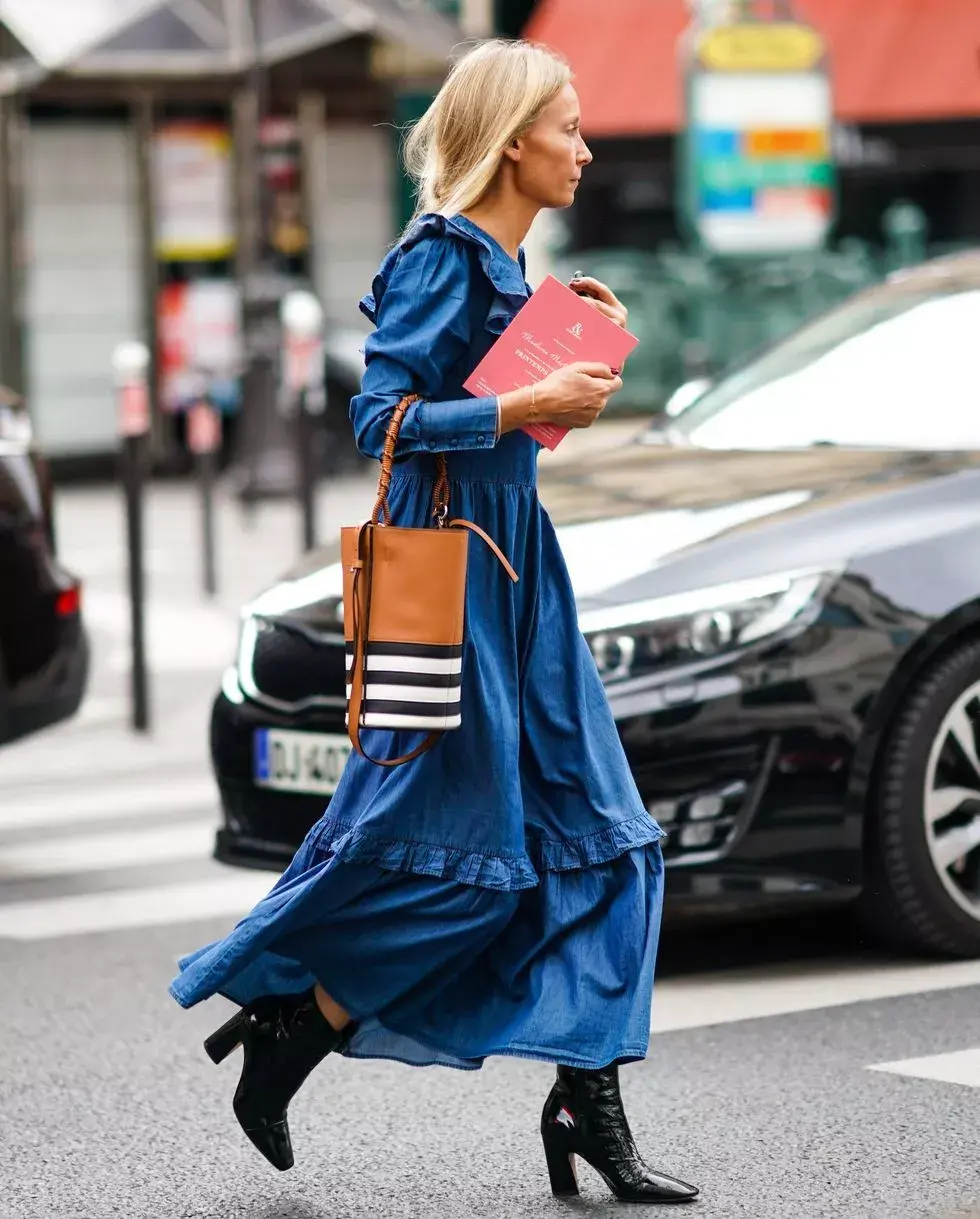 Don't forget to click on your avatar "Follow Me" and never miss every opportunity.