Source: Xinhua News Agency
Poster shooting: Pubu Tashi, Sun Fei; Poster production: Zhang Chen, Tenzin Nubu
Lhasa, 19 May (Xinhua) — After the beginning of summer, the snowy plateau is already "full of green."
This is due to the fact that in recent years, Tibet has vigorously promoted land greening and carried out the "five elimination" action of "eliminating forest-free townships, forest-free village groups, green-free courtyards, forest-free farmers, and tree planting gaps". Up to now, 1,079 "treeless villages" and more than 104,700 "treeless households" have successfully planted trees, driving the comprehensive vegetation coverage of Tibet's grasslands to 46.71%.
"In the past, I thought it didn't matter if I had a tree or not, but now I am very happy to see the trees planted in my house and village grow strongly." Jin Zhu Deji, a villager in Zabulang Village, Zada County, Ali Prefecture, said that now that they know the importance of greening, everyone has begun to consciously love and protect greenery.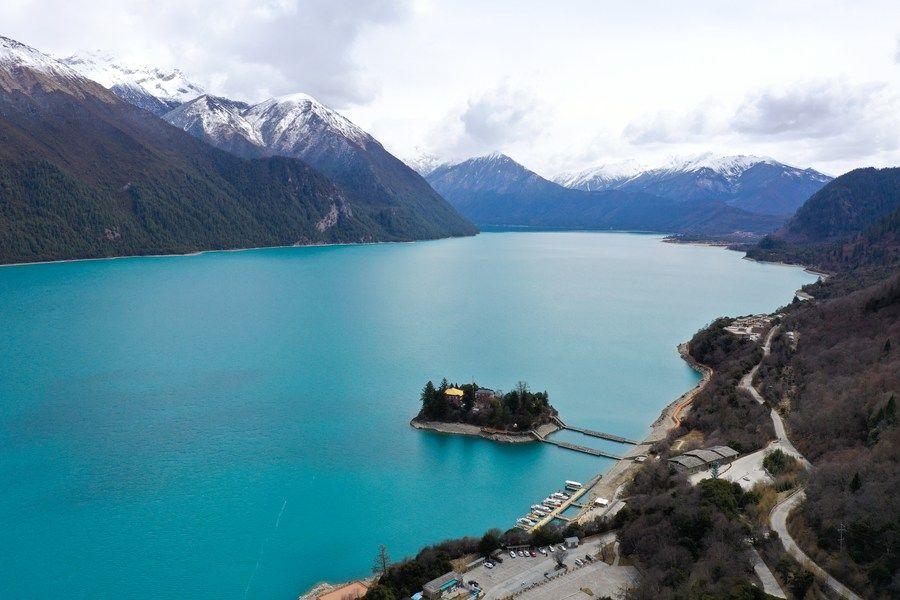 In the "Five Eliminations" action, Tibet's cities (prefectures) encouraged and guided farmers and herdsmen to participate in afforestation and greening, sand prevention and control and other ecological projects, and more than 100,000 farmers and herdsmen directly participated in land greening every year, with an increase in per capita income of about 3,000 yuan.
"Originally, Ali could only grow red willow, Pangong willow, and Kelsang flowers, but now there are everything from national acacia, pear trees, and apricot trees. In summer, the landscape of the city is particularly good. Li Xiaobing, director of the Ali Regional Ecology and Environment Bureau, said that when he first joined the work more than a decade ago, he ate a mouthful of soil when the wind blew and did not dare to leave his home.
Overlooking the village of Zabujang, Zada County, Ali Region. Photo by Xinhua News Agency reporter Tian Jinwen
Combined with regional characteristics, Shannan City and Shigatse City carried out trial planting of native tree species in areas above 4,300 meters above sea level. Zhanang County, Shannan City, adopts the escort method of docking with nursery experts to promote the construction of beautiful villages with "agro-forestry compounding, mixed needle-broad, rich colors and distinct seasons". Sakya County, Shigatse City, in the "company + farmer" model, gives priority to the local saplings cultivated by farmers – bamboo willow, and the nutritious cup seedlings – Gyantse sea buckthorn, which not only improves the survival rate of seedlings, but also drives "green gang employment" and "green prosperity".
Green water beauty, livable and workable; The village environment, clean and comfortable; The industry prospered, the people prospered… Walking in the countryside of the plateau, the scenery is everywhere you go.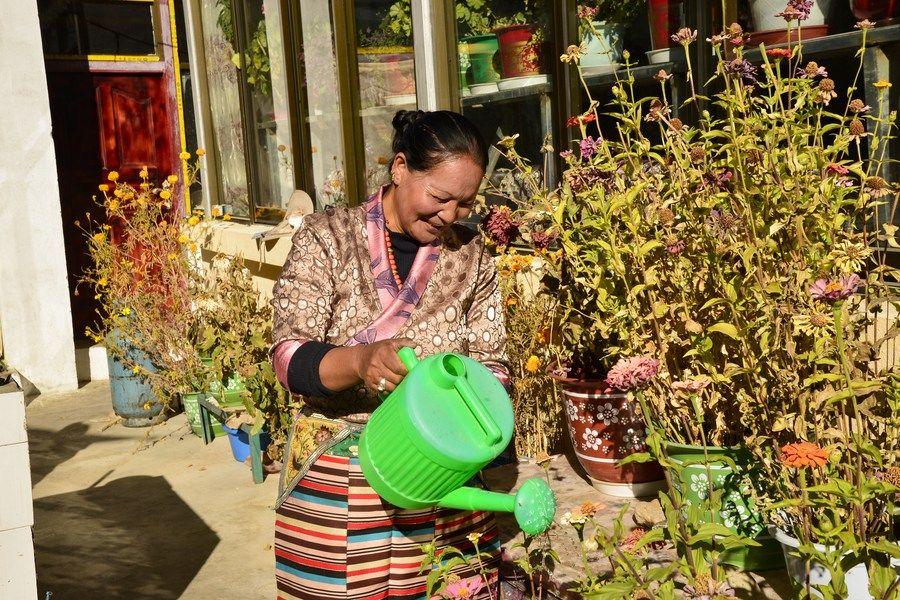 During the 2021 Nyingchi Peach Blossom Tourism and Culture Festival, a girl in ancient costume admires peach blossoms. Photo by Xinhua News Agency reporter Tian Jinwen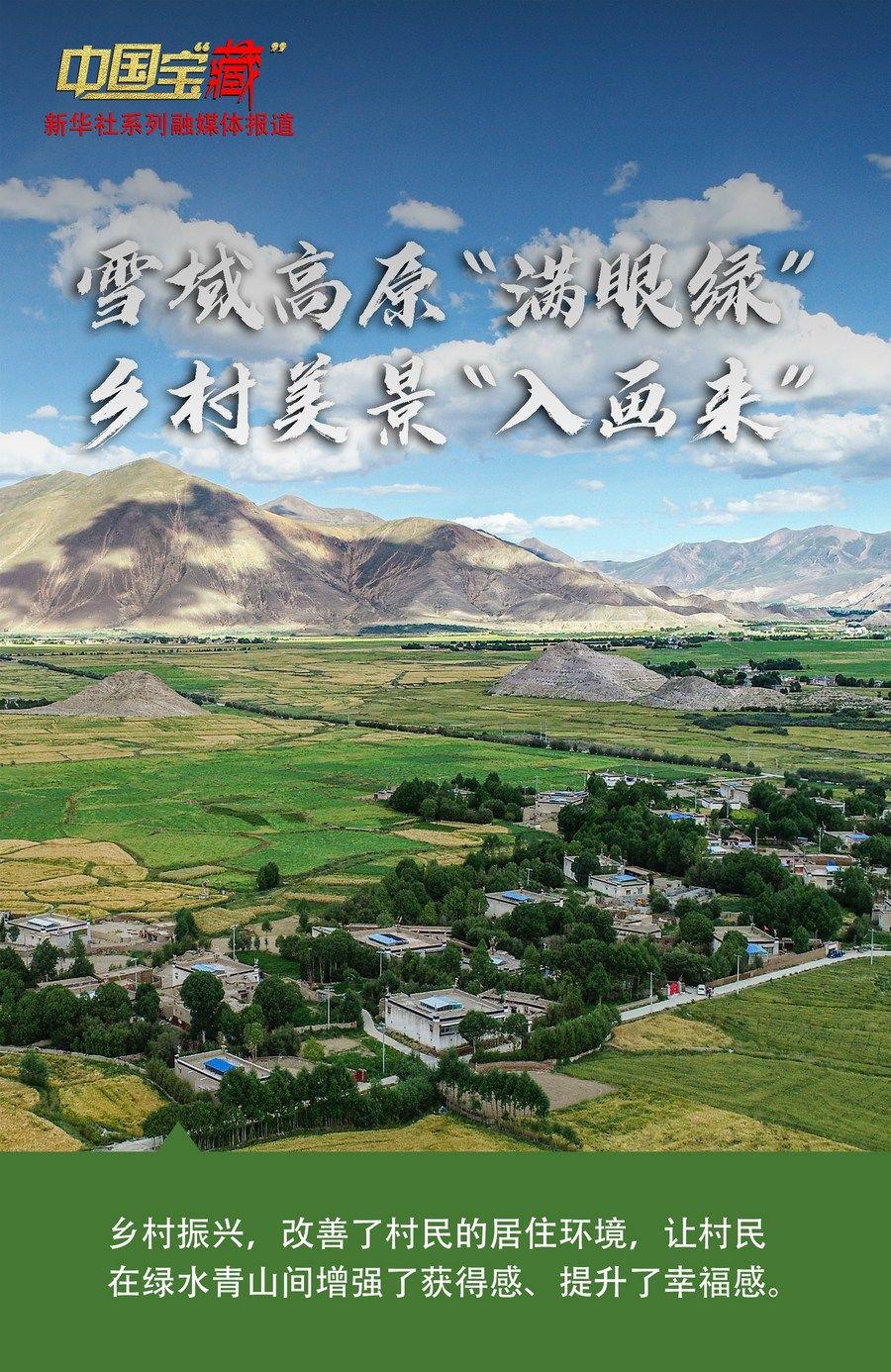 The countryside is beautiful, and more and more people come to leisure tourism, which has led to the vigorous development of rural tourism. At present, Tibet has launched a number of rural tourism boutique routes, such as the Tao Village Trail Tour of Homesickness in Eastern Tibet, the Red Valley Tour of Rural Love in Southern Tibet, the Agricultural Leisure Tour of the Pastoral Countryside in Western Tibet, and the Black Tent Slow Enjoy Tour of the Pastoral Song in Northern Tibet, allowing tourists to experience the beauty of pastoral life up close, and also increasing the income of farmers and herdsmen in the village.
Jinzhu Deji, a villager in Zaburang Village, Zada County, Ali Prefecture, watering flowers in her yard. Photo by Xinhua News Agency reporter Tian Jinwen
2021 is the 20th year of the Nyingchi Peach Blossom Festival. Through the beautiful business card of peach blossoms, Nyingchi City continues to promote the development of rural tourism, so that tourists can not only see the beautiful peach blossoms, but also experience rural life, eat collector's meals, live in collectors' music, and let the local people get benefits that can be seen and touched.
Tsering Yangzong, a 26-year-old villager in Chojiu Village in Gongbu Jiangda County, became a docent of the scenic area as its popularity grew. "In the past, the village lacked even basic reception facilities such as parking lots and restaurants, and it was difficult to retain customers. Now the infrastructure is good, and there are more people received, and I can earn more than 8,000 yuan a month during the peak season. "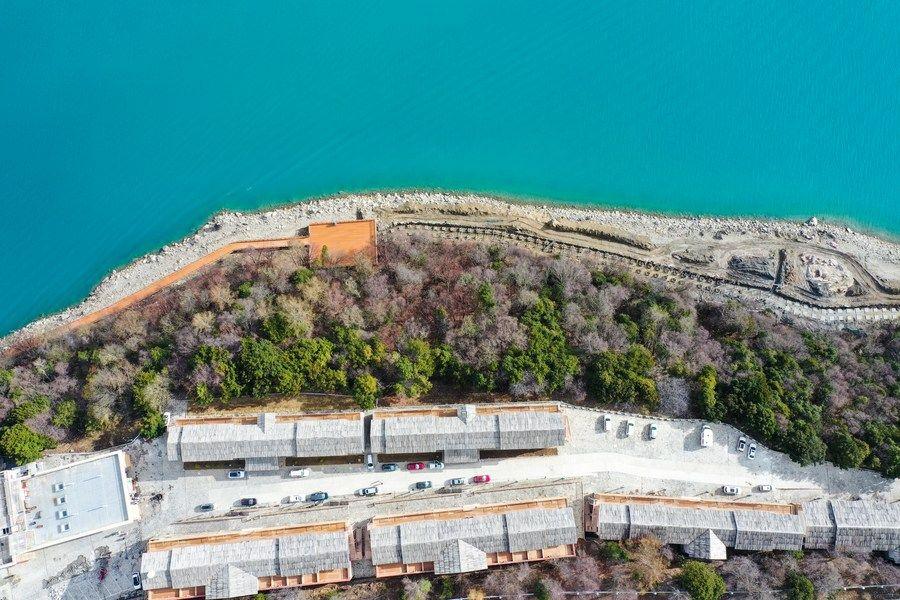 This is Basungcuo in Nyingchi City, Tibet Autonomous Region. Photo by Xinhua News Agency reporter Tian Jinwen
According to the relevant departments of the Forestry and Grassland Bureau of the Tibet Autonomous Region, this year's afforestation work in Tibet will focus on the three cities of Lhasa, Shigatse and Shannan, and strive to form concentrated and large-scale afforestation results, consolidate and improve the elimination of "treeless villages" and "treeless households", carry out tree-planting actions on the "four sides" of rural areas, create beautiful villages with ecological livability, and build a beautiful and clean rural living environment.
This is a scenic spot in Basung Tso. Photo by Xinhua News Agency reporter Tian Jinwen
Rural revitalization has improved the living environment of villagers, so that villagers have enhanced their sense of gain and happiness in the green waters and mountains.
The green mountains are silent, but the river is still there. At present, the plateau, the beautiful countryside has its own characteristics, realizing the transformation from "one beauty" to "one beauty", from "regional beauty" to "global beauty", driven by infrastructure construction, the level of rural public services has gradually improved, living conditions have been improved, and great strides have been made in the direction of livability and work.
Poster shooting: Pubu Tashi, Sun Fei; Poster production: Zhang Chen, Tenzin Nubu