On March 2, the unveiling ceremony of the 3C Home Grid Consumer Education Base with the theme of "Improving Consumer Experience and Promoting Consumption Fairness" was held in Beijing. The education base is jointly sponsored by the China Consumers Association and the Beijing Consumers Association, and undertaken by JD.com, with the China Household Electrical Appliances Research Institute providing technical guidance and providing scientific and professional knowledge guides for the consumption of 3C home appliances.
As an important consumer channel for 3C home appliances, JD.com actively responds to the call of the Consumer Association and works with industry partners to improve consumer experience and promote consumption fairness. At the event, representatives from all parties from the 3C home appliance industry exchanged views on "3C home appliance industry trends and consumer demand upgrades", and as a partner of the "all-inclusive" service model jointly created with JD.com, Lu Chunshui, vice president of TCL Industrial China, introduced the innovative services jointly built with JD.com in the air conditioning category. At the same time, the reporter learned on the spot that Samsung's "all-inclusive" service has also been launched, Changhong, Konka, Xiaomi's "all-inclusive" service is about to be launched, and more well-known brands will jointly promote this new model with JD.com.
JD Electric Blue Shield plans to cooperate with TCL
Launched the industry's first "all-inclusive" service
In recent years, with the development of home appliances driven by scientific and technological innovation to intelligent, consumers' demand for home appliances has also been escalating, consumers are no longer satisfied with buying standard products, but to pursue intelligent, personalized home appliances, as well as more mature, personalized supporting services, the essence of consumption has been upgraded to express life attitude and personality through consumption, for consumers, it is very important to obtain standardized and definitive services.
In order to bring consumers a better service experience, JD.com joined hands with the brand to launch the "Jingdong Electric Blue Shield Plan" to build digital capabilities and standardized and deterministic service experience with brands. To achieve such a goal, the joint efforts of all parties in the industry are required, and it is in this context that the "all-inclusive" service was born. In the past, when consumers purchased air conditioners, users did not understand and were uncertain about the upcoming charging items for installation, and even if the charging items that met the installation charging standards may not be within consumers' expectations, which greatly affected the consumer experience. Adhering to the principle of "consumption fairness", TCL and JD.com for the first time in the air conditioning industry to try to extend the "all-inclusive" from enterprise orders to consumer orders, in the future in the air conditioning category, consumers only need to buy in the Jingdong APP once to achieve product delivery to home and door-to-door installation costs are all inclusive, no need to pay additional offline fees, so that consumers can no longer have anxiety about the installation of random charges when purchasing air conditioners, and enjoy the whole process service with one purchase.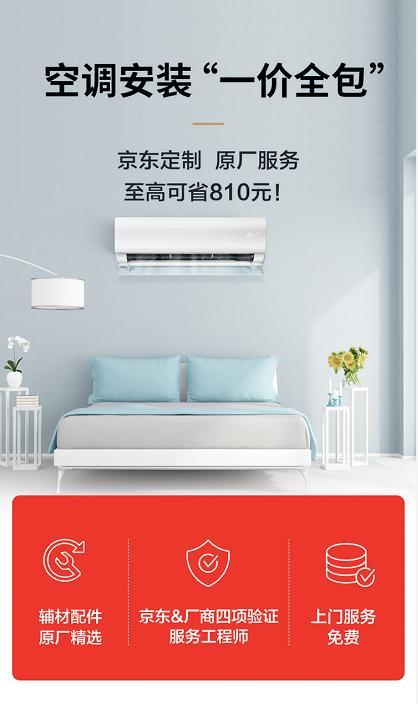 Jingdong Electric Blue Shield plans to work with cooperative brands to build digital, standardized and deterministic services
At the roundtable forum, Zhang Yan, general manager of service and intelligent business of Jingdong 3C Home Appliance Business Group, also said that only the cooperation of JD.com, brand manufacturers and service engineers, complementary advantages, and the use of advanced technical means and efficient organizational methods for organic combination can create a systematic digital system for consumers and the industry, and on this basis, we can standardize and determine the establishment of services.
To this end, JD Electric Blue Shield plans to gradually build service capabilities and drive consumer experience upgrades through three stages: digitalization, standardization and certainty. "Digitalization" refers to the digital verification of the information of service engineers, so that product information and charging information are displayed to consumers in advance, and then based on information visualization, the industry is promoted to jointly build "standardization", so that the service content and service standards of practitioners are clear enough, so that the service gradually moves towards the direction of standardized products, and finally realizes the "certainty" of the service, realizes the determination and transparency of the charge, and makes each service "what you see is what you get". At the same time, deterministic and standardized services can also give positive feedback to excellent service engineers, achieve "excellent work and better pay", drive the continuous improvement of consumer experience, and ensure "consumption fairness" for consumers.
At this stage, the Blue Shield Project has cooperated with brands to achieve double verification of four information of service engineers, including real-name authentication, security certification, health certification and skill certification, so as to jointly build digital capabilities in the industry and make service information more transparent. In January 2022, Jingdong Electric Blue Shield plans to launch the "electronic bill" function, taking the lead in realizing transparent online charging in the installation of home appliances, clearly displaying the name, unit price, quantity and other information of consumables and accessories used in the installation process of home appliances, so that consumers can experience installation services with open charges and transparent prices. At present, Jingdong has launched electronic bill services with Midea, TCL, Smith, Vantage, Wanhe, Wanjiale, Linnei, and Subor, which can be enjoyed by consumers in more than 200 cities across the country, and nearly 400,000 engineers have passed the multiple verification of the Blue Shield Program, and in just five months, more and more consumers have enjoyed better services. At present, about 84% of the orders for electrical services provided by JD.com are visited by service engineers who have participated in the Blue Shield program and passed various verifications.
"All-inclusive" is an important innovation in the process of building electrical service capabilities with brands by JD Electric Blue Shield, so that consumers can enjoy a certain and transparent electrical installation and service experience. In the future, JD Electric Blue Shield Plan will continue to take "jointly promote consumption fairness" as the guide, work with more brand partners, accelerate the joint construction of industry digital capabilities and standardization, bring service experience upgrades to more consumers, and create more definitive service products.
This article is derived from financial world information